Free eBook!
The HOA Guru Guide to Self-Managed HOAs
5 Keys to Successful HOA Management
Our free guide provides the essential knowledge you need to avoid the hassles and stress of self-managing your homeowners' association.
Michael DiLillo:
Company Founder, Programmer, Husband, Father, Outdoors Enthusiast
With our free guide to self-managed HOAs, you will:
Improve HOA self-management in your community.
Enjoy significant financial savings of self-management
Gain self-confidence as an HOA Board member
Earn the gratitude and respect of your neighbors
Self-managing your HOA can seem daunting, but the benefits of self-management can be significant, especially the financial benefits. So to help you make the most of the advantages offered by HOA self-management, we've put together this convenient guide, which describes five essential keys to successful HOA self-management.
By following this straightforward guide, you and your fellow HOA board members can efficiently manage your homeowners association while avoiding HOA self-management missteps. For your free copy, just fill out the form, and we'll send you a download link."
Use our guide to avoid the headaches and hassles that can undermine your self-managed HOA while protecting your most important investment, your home.
An email will be sent to you with a link to download your ebook.
Privacy: We will never sell or share your email address!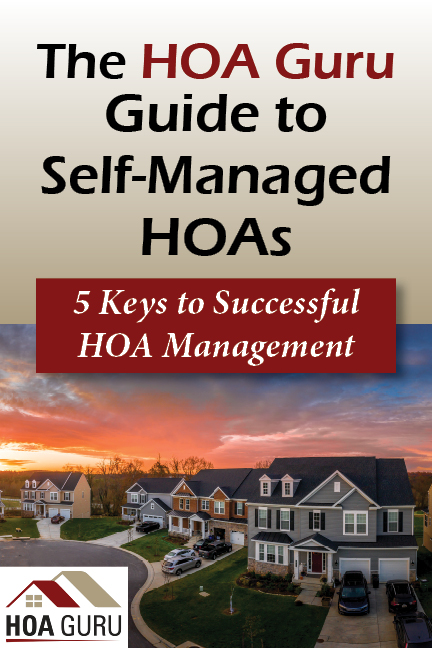 HOA Guru Articles
---
Virtual HOA Meetings: Adapting to Life in the Time of Coronavirus
Have COVID-19 quarantines and social distancing sidelined your HOA meetings? Have you tried virtual meetings?
---
Should you buy a home in a homeowners association?
Living in a neighborhood managed by an HOA has pros and cons, so how do you know if an HOA is right for you?...
---
How Can Self-Managed HOAs Manage Improvement Requests?
How do you get your improvement request approved by your HOA? How do you track correspondence between homeowners and management? Read on to find out about potential issues and solutions...
---
Who has access to HOA homeowners' information? See how HOA Guru can help.
Personal information privacy is an important issue. You want to make sure your HOA protects your privacy concerns ...
---
Short Term Rental Issues in HOAs
Has your HOA addressed the issue of short term rentals yet? It isn't an issue in your HOA you say? Think again!...
---
How to Deal With Problem Board Members
Is there a board member who is always causing problems?

Here are some hints and tips to alleviate your problems...
---
Virtual Attendance at HOA Board Meetings
Having trouble meeting quorum at your HOA board meetings? There are innumerable reasons why board members cannot attend a meeting.

How can you address this? Consider virtual meeting attendance...
---
How to Effectively Run an HOA Board or Annual Meeting
A meeting facilitator is like the conductor of an orchestra. The conductor needs to set the timing and the flow...
---
How to Increase attendance at HOA Meetings
Getting homeowners to attend HOA meetings can feel like a tug of war. Read on to see what you can do to let go of the rope...
---
An Introduction to Our HOA GuruTM Blog
This post is an introduction to HOA Guru's new blog. We will be blogging about important information pertaining to HOAs (Homeowner Associations)...